Hello and Happy Halloween, everyone! I hope this message finds you well. It's time for our Oct 2020 team update.

——————————————————————————————————————–
IN THIS UPDATE
DELIVERING HAPPINESS TO THE EVERYDAY WOMAN
NADINE WEST CORE VALUES
NADINE WEST PEOPLE APP
HOBBIES TO STAY POSITIVE DURING COVID
OCTOBER CELEBRATIONS
PAST TEAM UPDATES
FEEDBACK ALWAYS WELCOME
——————————————————————————————————————–
1. DELIVERING HAPPINESS TO THE EVERYDAY WOMAN
New members of the Nadine West team,
First of all, welcome to Nadine West. We're glad you're here.
Secondly, I'd like to formally share our company mission: to deliver happiness to the everyday woman.
That mission has led us to study the science of happiness. As you probably know, one of the keys to happiness is gratitude. So, let me express our collective gratitude for everyone reading this. We are very lucky to have such an amazing team to work alongside. In fact, that is why we named our internal team blog "thankyou.nadinewest.com."
——————————————————————————————————————–
2. NADINE WEST CORE VALUES
As time goes on and we mature as a company, we realize more and more that we do things quite differently here at Nadine West.
Why do we do things differently? We do things differently because we value different things.
We've found that the people who excel at Nadine West and are the happiest at Nadine West share our core values.
What are these core values? This is not our "official core values" list, but here are a few things we care about:
AUTHENTICITY
At Nadine West, we know who we are and we don't apologize for it. Rather than comparing ourselves with others, we prefer to compete with ourselves.
As long as we are competing against ourselves, getting a little better everyday, and embracing who we are, we are #winning.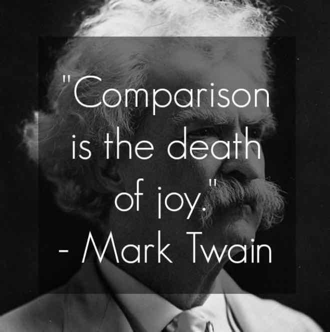 HUMILITY
Although we take our work very seriously, we don't take ourselves too seriously. Nadine West takes great care to filter out anyone with a big ego from joining the team. If you're reading this, you have already shown the humility that we value here. That humility means that you naturally have a growth-mindset.
DEEP WORK
Occasionally, someone joins Nadine West and wonders, where are all the meetings and phone calls? And why aren't we on Slack?
Since day one, we have been a big believer in the power of deep work. To do deep work means to focus your time and energy, like a laser, on The One Thing, whereas shallow work is more like a light bulb, shining low intensity light in every direction. Shallow work is necessary for getting things done, but deep work is what really moves the needle.
At Nadine West, we nurture deep work by limiting interruptions (eg. no Slack, selective about Pings/Campfires), by keeping meetings short and focused, by learning to write effectively in Basecamp, and by respecting others' deep work time.
FOCUS ON THE SYSTEM
At Nadine West, we believe our long-term success will be determined by our ability to build good systems. Focus on the system and the results will take care of themselves. If you're not happy with the results, don't just try harder but, instead, analyze why the system led to those results and then design a better system.
For example, if you want to get healthier by jogging but lose interest after a few jogs, yes, you could commit to just try harder. Or you can figure out a system where jogging happens automatically. (Probably both.)
BUILT-TO-LAST
When we started Nadine West 6 years ago, the goal was to build a special company, a company that was built to last a long time. We thought that too many startups pursued rapid, unsustainable, and unprofitable growth just to get as big as possible as fast as possible.
Instead, we believe that growing Nadine West should be more like planting a tree. Give the sapling delicate care and regular watering and it will eventually grow deep roots and strong branches…and will yield fruit for years. (Shout out to Xavier for the gardening metaphor.)
——————————————————————————————————————–
3. NADINE WEST PEOPLE APP

Since we're spread across different time zones and different Basecamp, sometimes it's hard to know who's who. From our team blog, we are working on a new web site so you can get to know everyone at Nadine West.
——————————————————————————————————————–
4. HOBBIES TO STAY POSITIVE DURING COVID
From our team blog, read about what others are doing to stay positive during COVID.
——————————————————————————————————————–
5. OCTOBER CELEBRATIONS
From our team blog, check out this month's birthdays, anniversaries, and special celebrations.
——————————————————————————————————————–
6. PAST TEAM UPDATES
——————————————————————————————————————–
7. FEEDBACK ALWAYS WELCOME

Sidney and I (and all your team leads) are still learning on the job, every day. Sidney and I have made so many silly mistakes over the past 6 years, one day we will compile them into a book called "Best of Nadine West Fails!!"
We all make mistakes, but what matters is that we remain open to self-improvement and seek feedback from others on how we can do better.
If you have any suggestions for your team leads, please let them know. If you have any suggestions for me or for Sidney, please don't be shy about pinging us on Basecamp and letting us know what you think.
Thank you so much for being the best team ever! <3