The current pandemic is entering its third year. On March 11 two years ago, the WHO declared the Covid-19 outbreak a pandemic.
Lockdowns and social distancing measures were immediately imposed almost everywhere. Life as we know it changed in an instant.
I'm sure we all felt the panic, stress, and anxiety. It was a rollercoaster of emotions.
We were worried about getting the virus, the safety of our loved ones, the supply of food and other necessities.
But in spite of all the uncertainties back then, we're certain that Nadine West will emerge stronger than ever once this crisis is over. Everyone has built Nadine West into such a resilient, efficient company so that we were in a strong position when covid happened.
Thank you for being the best team ever.
Let's take a look back at what happened in the past two years.
March 2020
How do you keep the ball rolling in the middle of a pandemic? While nobody seems to have any idea what's in store at the time, there are people who could lead us in a good direction–our members.
So we asked them what they wanted from Nadine West during this crisis. Overwhelmingly, our members responded that they wanted to continue receiving their pink packages.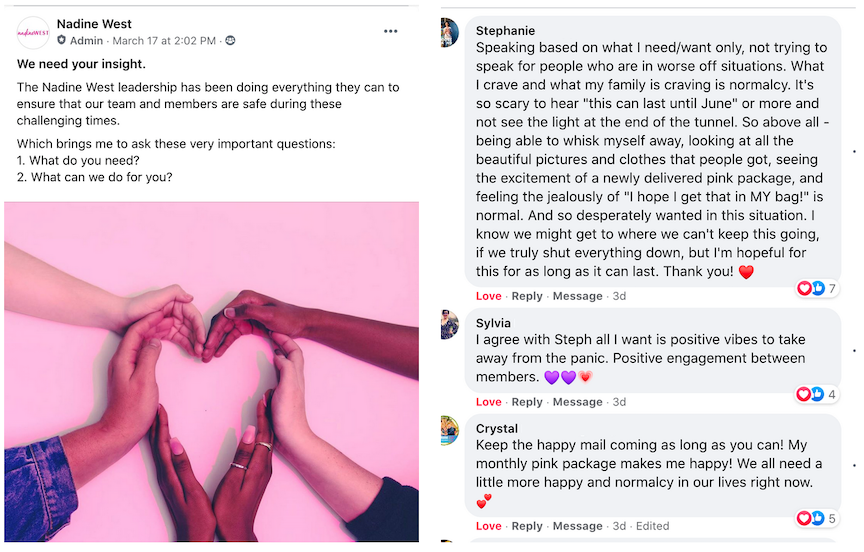 We're fortunate to have already built amazing systems that our remote teams (Philippines, Russia, Toronto, Alaska, Indiana, Vietnam, Miami) were able to continue working without any major interruption. We've been working remotely for the past six years, so we were in a strong position.
The only team that needed to actually report to work physically was the warehouse. We made sure we have put all safety precautions in place, although our operations back then were dependent on the existing government policies (which changed quite often). Thankfully, everything went well.
Temporary face mask production
Who could forget the shortage of surgical masks and other essential supplies in the first few months of the pandemic?
In response, Nadine West produced surgical face masks to protect the elderly and health care workers.
Of course, our members were informed about possible delays in their shipments because of this initiative. We just love their comments:
April 2020
Expansion during the pandemic
As early as one month since the pandemic was declared, we were expanding…again.
The NW Returns team moved to a small temporary warehouse while we were in the middle of negotiations to move into a new warehouse with twice the capacity of our then current warehouse.
Below is our returns team, temporarily working out of a small warehouse nearby.
June 2020
Making Big Moves
We moved from a "tiny" 20,000 square feet warehouse to another one that was double the size.
OLD WAREHOUSE EMPTY (20,000 SQUARE FEET)
NEW WAREHOUSE OUTBOUND (30,000 SQUARE FEET)
NEW WAREHOUSE INBOUND (20,000 SQUARE FEET)
Breaking records
July 2020
Our monthly shipments kept increasing. Despite the pandemic, we have surpassed our 2019 numbers.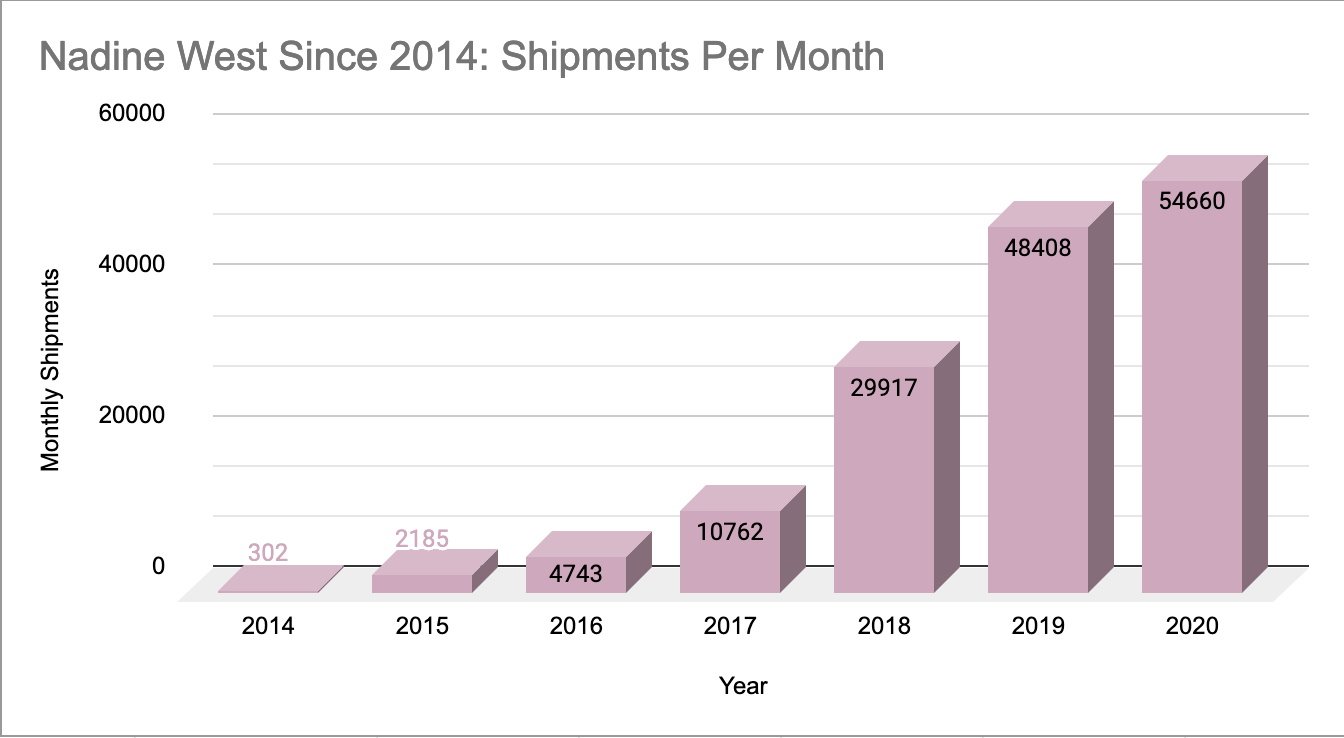 September 2021
In September 2021, we reached a new record: 100,000 happy customers! That was 40,000 more than the previous year.
December 2021
More and more customers fall in love with their pink packages that by the last quarter of 2021, we have already outgrown our still new warehouse in Austin. We had to look for a second warehouse and we found one in San Antonio.
By the start of 2022, our San Antonio team is already as big as Austin!
What we have achieved in the past two years, in the middle of a very challenging time, is simply unbelievable.
Sidney, Meredith, and I cannot thank you enough for always giving your best.
Hopefully, we're at the last stretch of this pandemic and we could soon go back to normal. And so that we can resume our team gatherings that we all surely already miss.