Nadine West team members are scattered all over the planet. Would be great if we could get a chance to visit everyone. Below are some pictures from our team members. Which place do you want to visit first?
Vista Tala in Bataan is a great location overall for sightseeing, recreation, and dining. It has a very calming scenic view. What a breathtaking place to visit!
Monique Navoa
This photo was taken at Camarines Sur Water Sports Complex (CSWC). While my sister was watching the wakeboarders do their stunts, I took advantage of the moment to capture the beautiful sunset.
This place attracts water sports enthusiasts from all over the world. They offer cable skiing, wakeboarding, kneeboarding, water skating, etc. They also have cute, native huts for their guests to relax in. And every weekend before the CoVID happened, they hosted marketing events and mini concerts for everyone to enjoy.
Dimaiwat Cherrylyn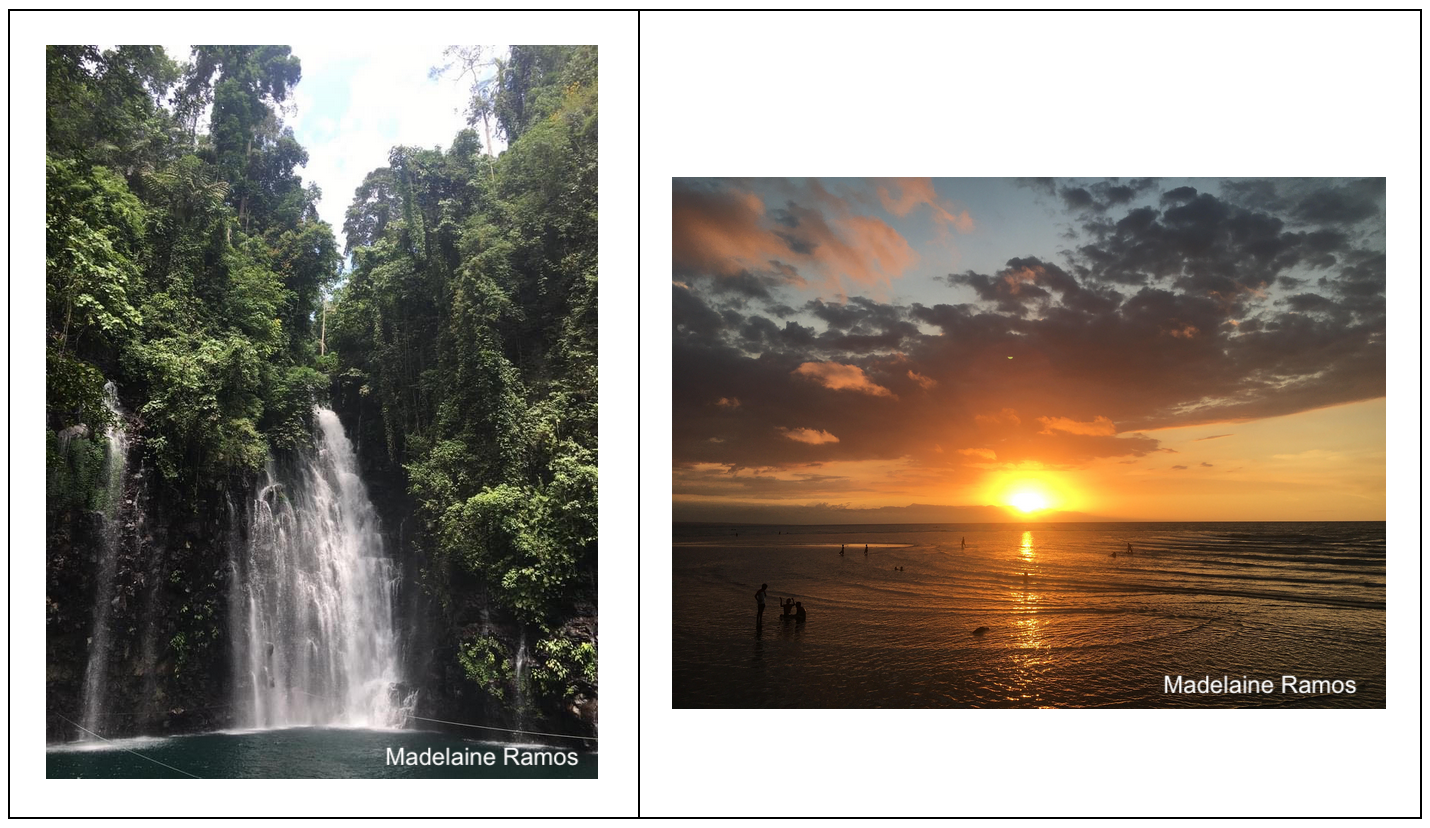 I'm from Iligan City, known as the City of Majestic Waterfalls. I love it here because there's no heavy traffic, less pollution, and everything is less than 30 minutes away.
On the left is the Tinago Falls, where I usually bring my family and friends who visit me during summer vacation. The approximately 400 steps to get to the falls is always worth it.
On the right is the beach that my husband and I go to everytime we need a quick break from work. It is five minutes away from our home. His Grandma's house is at the beachfront where we get to watch beautiful sunsets.
Madelaine Ramos
Taken last December, this photo shows the lower part of BenCab Museum in Tuba, Benguet which features a farm and a garden, as viewed from its balcony. It showcases organic produce and architecture of the Ifugao, Kalinga, and Bontoc.
The museum itself features artworks by Benedicto Reyes Cabrera, a Filipino painter, and other
noted Filipino artists, plus indigenous northern highlands exhibits.
Lanny Abrero
Santa Rosa is not too far from Manila and has been a city for years now. I guess I can recommend visiting Solenad, Nuvali. A place where you can relax, enjoy the view and go shopping too.
There is an area where you can rent bikes and feed the coys/fish, which is really satisfying to do. There's a big area where you can just sit down, run or play around. You can also ride on a boat for a fee. You may bring picnic mats, sit on the grass and eat your food! A really great place to chill and do some soul searching (lol). You can do it alone or with family and friends!
I also recommend Camp N if you're looking for adventure. You can try the zipline, wall climbing and rappelling, obstacle course, aerial rope, archery and a lot more.
Jaimee Rose Perez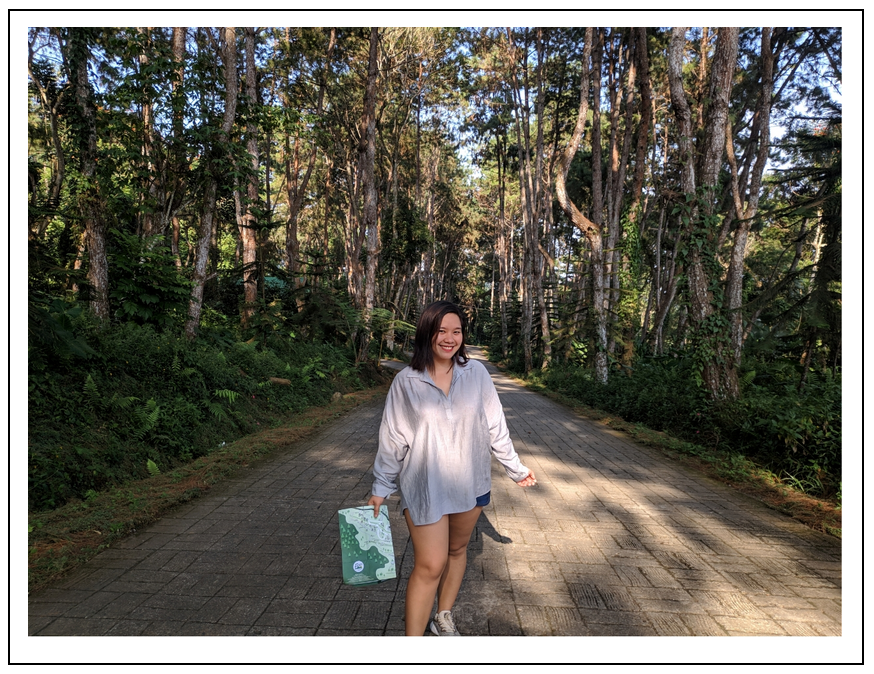 Being able to smell the fresh air and disconnect from the news and your phone—there's nothing like it." – Jason Ward
Eden Nature Park and Resort Davao is my favorite go-to place whenever I feel the need to take a break. It is one of the most popular and most visited mountain resorts in Davao City. One of my favorites is enjoying the spectacular view of pine trees which blends beautifully with its background.
This is definitely a good place to unwind, relax, enjoy good food, and feel the beauty of nature!
Rhemma Poster
This photo was taken last July 2018 at Dingalan Aurora, Quezon Province. This is the "Batanes of the East" here in the Philippines. It is jaw droppingly beautiful. A must visit place if you decide to travel to the Philippines.
Christine Flores
This is the Abbey of the Transfiguration or also known as the Monastery of the Transfiguration. This is located in Malaybalay City, Bukidnon. This is a Catholic church but a lot of people consider this as a tourist spot.
The church is located on top of a hill surrounded by lush green environment. The church itself is a pyramid in shape and when you visit the place it offers a zen and peaceful ambiance. You will feel the cool breeze of the mountain and enjoy the fresh air.
They also have a souvenir shop and a cafe. They sell different religious items and other products that they have grown and produced such as cocoa, coffee, brown rice, turmeric and other delicacies and pastries.
Jennifer Batu
I'm from Ho Chi Minh, the largest and busiest city in Vietnam. I always travel to the countryside and stay close to nature.
Nadine West gives me a great chance to work everywhere I like. I'm glad to invite you to work remotely with me on top of the mountain. We can listen to the birds singing and enjoy the fresh air and cool wind. Sometimes, we will be distracted by adorable squirrels looking for food on the trees around. The picture above is the view from my dad's house at Cam Mountain, Vietnam.
Haley Vo
I've lived in Miami, Florida for 2 years. The Florida sunshine has been a welcome escape from the extreme climates I experienced when growing up in the UK, and then later when living in New York City after a move stateside.
Being in Miami is all about having access to the many beautiful beaches – where the warm seawater is like jumping into a giant soothing bath! Hop on a boat and you'll often see sting/manta rays, dolphins and the odd shark! On land, the large latin community here is full of energy – they really know how to have fun and party. If any of the team ever make it here – I would love to meet up.
Adrian Tilley
I'm currently living in Ketchikan, Alaska, which is about as far south in Alaska as you can get. We are roughly halfway from "mainland" Alaska to Seattle, in a unique geographical area of temperate rainforest.
Being that we are not originally from here, we try to maximize our family's time outdoors exploring the mountains, rivers, and coastlines. Whether on boating or backpacking trips, we regularly get to see nature in it's most raw form. Untouched land where you can see more whales, bears, and bald eagles than people on any given weekend out of town.
The first picture is from the top of "Dude Mountain" looking towards some of our other near town mountain ridges and the ocean in the distance. The second photo is of a mountain stream flanked with the dense rainforest growth.
Grant Alkire
I live in Moscow, the capital of Russia. It's one of the largest cities in the world with 12 million people living here.
And like any megapolis, it's hard to choose one place to recommend. So here's just two pictures to show the opposite sides of the city.
The first one is the Triumfalnaya Square on winter night. Yeah crazy Russians like swinging even during winter. And the next one is taken from Luzhniki metro bridge over Moscow river. It's a summer view on Sparrow Hills and the Russian Science Academy.
Marat Nuriev
I am a software consultant, working from Barcelona for clients all over the world. Barcelona is an incredible city, modern, open, cosmopolitan, by the sea. The climate here is really good, perfect for riding your bike all year.
Working remotely gives you freedom. When my daughter finishes school in June, we'll move to the seaside and spend the whole summer there. The picture on the right shows one of our favorite spots in our beach town.
Xavier Noria